Facebook said Wednesday that it is rolling out a new tool to centralize user privacy and security settings following the outcry over its data collection practices.
The company said users will be able to make changes from a single page instead of having options spread across nearly two dozen screens on different parts of the platform. Facebook plans to roll out the change in the coming weeks.
Facebook users will be able to adjust an array of privacy settings on the page for the information that they've given the platform, like their interests, and their activity on Facebook, such as liking photos and commenting on friends' statuses.
Users will also be able to more easily see what data can and can't be shared with apps.
From the new page, users can control the personal information the social network keeps on them, such as their political preferences or interests, and download and review a file of data Facebook has collected about them. Facebook also will clarify what types of apps people are currently using and what permissions those apps have to gather their information.
The move, which Facebook said was in the works even before the Cambridge Analytica scandal shook the company and its stock price, is unlikely to put to rest the broader issue of user privacy. Nonetheless, it underscores a key concern of both Facebook and its investors: how to keep people from deleting their accounts over what many see as a betrayal of customers' trust.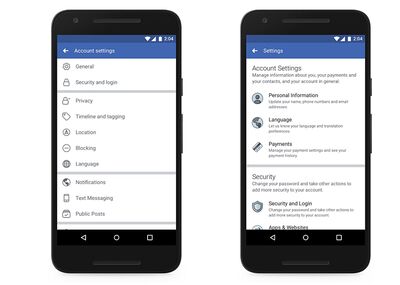 The new Privacy Shortcuts menu, being rolled out in the coming weeks, will let people regulate the amount of personal information the social media giant keeps on them, like political preferences and interests, and delete things they've already shared. It will also let people manage the information the company uses to show ads.
Facebook has come under increasing pressure from Europe and the U.S. to address revelations that political consulting firm Cambridge Analytica, which worked with Donald Trump's presidential campaign, harvested data from about 50 million Facebook users as it built an election-consulting company that boasted it could sway voters in contests all over the world.
Read More: How to Download a Copy of Your Facebook data That Facebook Knows All About You
Read More: Elon Musk just deleted Tesla and SpaceX's Facebook pages

Read More: Facebook's Mark Zuckerberg Said Sorry in Full Page Apology Letter